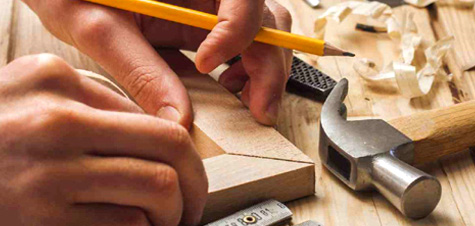 We have the capacity to deliver throughout the UK and all of our bespoke joinery is crafted in our own workshop by our highly skilled craftsmen resulting in expertly fabricated products.
Our skilled workforce is experienced in all aspects of joinery manufacture, we combine the knowledge and skills of traditional craftsmanship with modern machinery and innovative products
Bacchus have the capability of producing almost any bespoke joinery including Reception Desks, Cabinets, Storage Units/Walls, Sales Counters, Retail Stands,  etc. We can produce a one off piece or mass produce items where each piece is given the same attention to detail.
We are capable of combining a wide range of materials including solid timber, real wood veneers, laminates, acrylics, architectural metalwork, solid surfacing (Corian/Krion/Hi-Macs/Staron), Glass, Ironmongery. We go to great lengths to guarantee that our work is respectful of your environment.
We have the technology and ability to be able to provide working AutoCAD drawings for joinery components. We draw each piece of joinery from all drawing views so we can raise and rectify any issues before the manufacturing begins. Once the drawings are approved, they are passed on to the manufacturing team. This process leads to our joinery being manufactured accurately time after time.